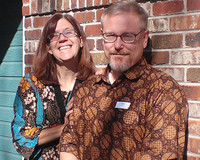 Guy and Chris have been non-denominational missionaries serving with Far East Broadcasting Company since 1999. They along with son, James and daughter Lauren live in Castle Rock, Colorado, where Guy ministers as the Engineering Support Team Leader for Far East Broadcasting.
Guy works to design and build Christian radio stations, studio facilities and offices for FEBC affiliates all across Asia. Chris helps with fund raising and donor relations for their work. She also is active in the local church, assisting with the single mom's ministry and with the Children's ministry.
If you're having trouble reading a letter, try right-clicking (Mac: Control-clicking) on the thumbnail and choosing "Save Link As..." or "Save Target As...". Then open the file from your computer.
If you do not already have it, you may need to install the free Adobe Reader first.