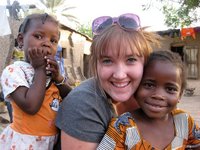 The gospel and the commission to spread His word have captivated me. My heart rejoices at the opportunity to serve the King here at School to the Nations. I will be lead our cross cultural department to develop authentic training and effective outreaches to the many various cultures of the world. I love to celebrate life and God's beautiful design within every unique culture. I eagerly await the Lord's movement through the nations!
About School to the Nations
www.schooltothenations.com
Online Giving
www.razoo.com/Jenna
If you're having trouble reading a letter, try right-clicking (Mac: Control-clicking) on the thumbnail and choosing "Save Link As..." or "Save Target As...". Then open the file from your computer.
If you do not already have it, you may need to install the free Adobe Reader first.